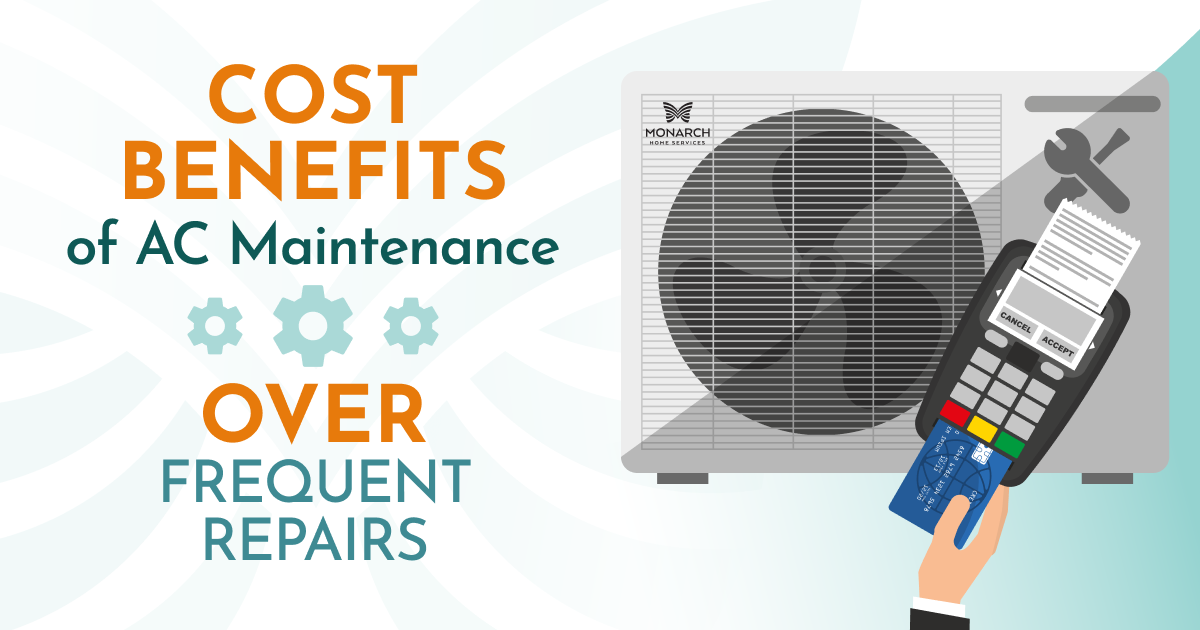 Air conditioner maintenance has many cost benefits over dealing with frequent repairs. It can avoid costly repairs altogether. And from improved cooling performance and efficiency to increased equipment longevity, AC maintenance will likely save you throughout the system's life. 
According to Angi, annual AC maintenance costs an average of $200 (you may spend just $60 per year maintaining a window unit while servicing a packaged heating and cooling system can cost $550).¹ By comparison, the average AC repair ranges from $450 to $1,000. However, it can cost $2,000 or more for larger repair jobs, such as replacing a failed compressor.²
An AC Tune-Up Is a Small Investment
The cost of a tune-up depends on the type and size of the system. But for under $200 a year, a technician can provide a tune-up that includes cleaning or changing the filters, clearing condensate lines, checking the drain pan, clearing air ducts, and checking for loose connections. These issues can lead to costly repairs if they're not resolved. A tune-up allows an HVAC professional to make adjustments and small fixes so there's less strain and wear and tear on the system.
Costs of Different Types of AC Maintenance Over Repairs
Maintenance can be performed in a few ways. The costs of AC maintenance and repairs can even overlap, which we'll explain below:
Routine Service

: A general check of your AC system can cost $200 to $400. The service may include a check of refrigerant levels and an inspection of your air ducts.¹

However, the service cost can vary depending on the type of system, its age, and overall health.

Proactive Maintenance

: This includes a tune-up. An extensive air duct cleaning can cost up to $500. Repairing a refrigerant leak, topping off the coolant, and changing the system filter are all forms of proactive maintenance.¹

Reactive Maintenance

: This is where AC maintenance overlaps with repairs. Common services include fan motor repair ($100 to $700), refrigerant recharges ($200 to $500), and AC leak repair ($200 to $1,600).¹

Emergency Service

: No one wants to wait to have their AC fixed during a heat wave. And emergency visits are costly. A contractor may add $100 to $200 to their regular fee. Plus, you'll have to pay for any parts that need replacement.¹
Opportunities to Save with AC Maintenance
As you can see, having a technician check your system regularly costs less than repairs. Saving on the cost of parts is one advantage. Other cost benefits to consider include:
Labor

: Annual

AC maintenance

is often provided at a flat rate. But if you need repairs, an HVAC company can charge anywhere from $100 to $250 an hour for labor. Larger repairs can take several hours to a day or two to complete. Labor can account for half of the project cost.²

Location

: Location isn't usually a factor for maintenance, as a local AC company will send its crew to your home at a scheduled time. But the cost of repairs differs from one place to another. Access to parts is one factor. Another is paying more for repairs in areas with a higher cost of living.

Warranty

: Most likely, a warranty was included with your AC unit. It can save you a lot if a common part breaks down sooner than expected. However, neglecting maintenance can void the warranty. Therefore, you'll have to pay for repairs that result from delaying or skipping

AC maintenance

.

AC Replacement

: Replacing an AC unit can cost up to $7,500.²

Maintenance can extend the

unit's life

by several years, putting off the need to pay for a new system. A well-maintained and cared-for AC can last up to 15 years.

Efficiency

: A poorly maintained AC will be less energy efficient. On top of paying for frequent repairs, your energy bills may be higher because your air conditioner is straining to keep up with demand. A well-maintained unit will run more efficiently, decreasing your monthly utility expenses.
Contact Monarch Home Services
Monarch Home Services provides an AC Maintenance Agreement that simplifies routine service and helps homeowners manage their air conditioning expenses. Our NATE- and EPA-certified technicians are trained and experienced in providing thorough tune-ups and addressing small issues to avoid frequent repairs. To schedule AC maintenance in and around Bakersfield, Fresno, and Visalia, call (661) 215-6737 today.
Sources: