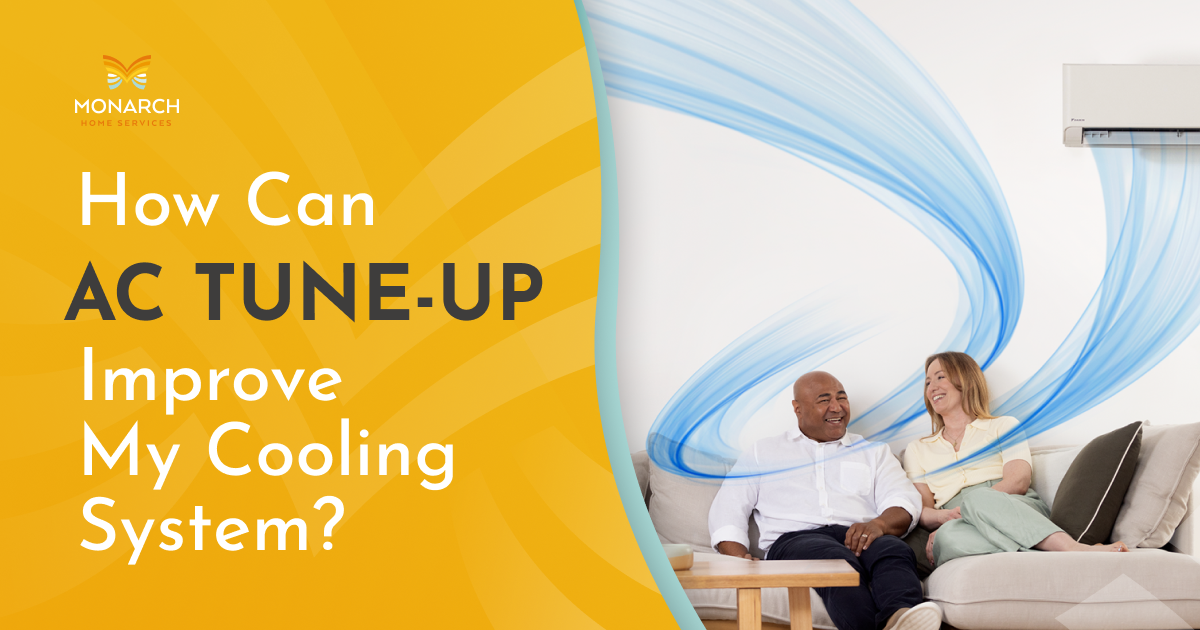 An AC tune-up is a thorough inspection of your HVAC equipment and can improve your cooling system in many ways. It involves checking moving parts, cleaning condenser and evaporator coils, replacing the air filter, and measuring refrigerant levels. In about an hour, our technicians can complete your AC tune-up so you can benefit from routine and preventative care.
Why an AC Tune-Up Is Worth It
A tune-up is a small interruption in your schedule compared to dealing with a major repair. Air conditioning companies recommend it for many reasons. It's not just a seasonal HVAC maintenance service they are upselling. An AC tune-up has tangible benefits and is well worth it in the long run. The advantages include:
Reduced Strain on Your AC

: Blocked filters and ducts, loose belts, low refrigerant, and dirty refrigerant coils can strain your air conditioning system. As it works harder, more parts will be strained, causing accelerated wear and tear. A tune-up resolves issues that strain the system, potentially avoiding big repairs and preventing a breakdown.

Your AC Can Last Longer

: Regular AC tune-ups can add years to the life of the unit. An AC that's not properly maintained may have to be replaced early, costing you thousands of dollars you could have saved. You'll also continue to see the cooling performance and efficiency your AC has provided since day one.

More Uniform, Reliable Cooling

: An air conditioner should keep every room at the same temperature. But without annual tune-ups, it can work less effectively, creating airflow issues that cause some parts of your home to be too warm and others to be too chilly. Temperature variations are a sure sign your AC isn't working right.

Improved Energy Efficiency

: An annual

AC tune-up

can improve energy efficiency. Therefore, you may pay less to the utility company each month. The difference in your energy bill throughout the cooling season is typically enough to recoup the cost of the tune-up. Plus, you're much less likely to incur fees for emergency and off-hours service.

Cleaner Air

: A tune-up for your cooling system can improve indoor air quality. By cleaning the filter, internal components, and air ducts, AC maintenance can reduce the amount of dust, particles, dander, and other allergens in the air. Your AC will also more effectively remove humidity, reducing mold spores, mold growth, and bacteria while also helping you not feel sticky.
When to Schedule an AC Tune-Up
Routine maintenance has the greatest potential to improve your cooling system when completed in the spring. It prepares your AC system to handle summertime demand. Your AC contractor may also recommend servicing it in the fall if you live in a hot and humid climate. Neglecting AC maintenance for several years can lead to expensive repairs.
Even if you've never missed an AC tune-up, you should schedule one if your energy bill goes up unexpectedly or the unit starts blowing hot air, there's less airflow from vents, or the air temperature isn't matching the thermostat setting. Also, schedule a tune-up if the AC is constantly running, turns on and off more frequently, makes unusual noises, or condensation or high humidity becomes a problem.
Contact Monarch Home Services to Schedule Your AC Tune-Up
Hot summer temperatures in the Central Valley can strain your air conditioner. Fortunately, Monarch Home Services provides comprehensive tune-ups for customers in Central California. Our NATE- and EPA-certified technicians perform a thorough inspection, make necessary adjustments, and provide minor repairs as needed. They can help improve the overall performance of your cooling system along with your comfort, indoor air quality, and peace of mind.
To schedule your AC tune-up, call (661) 215-6573 or contact us online today.