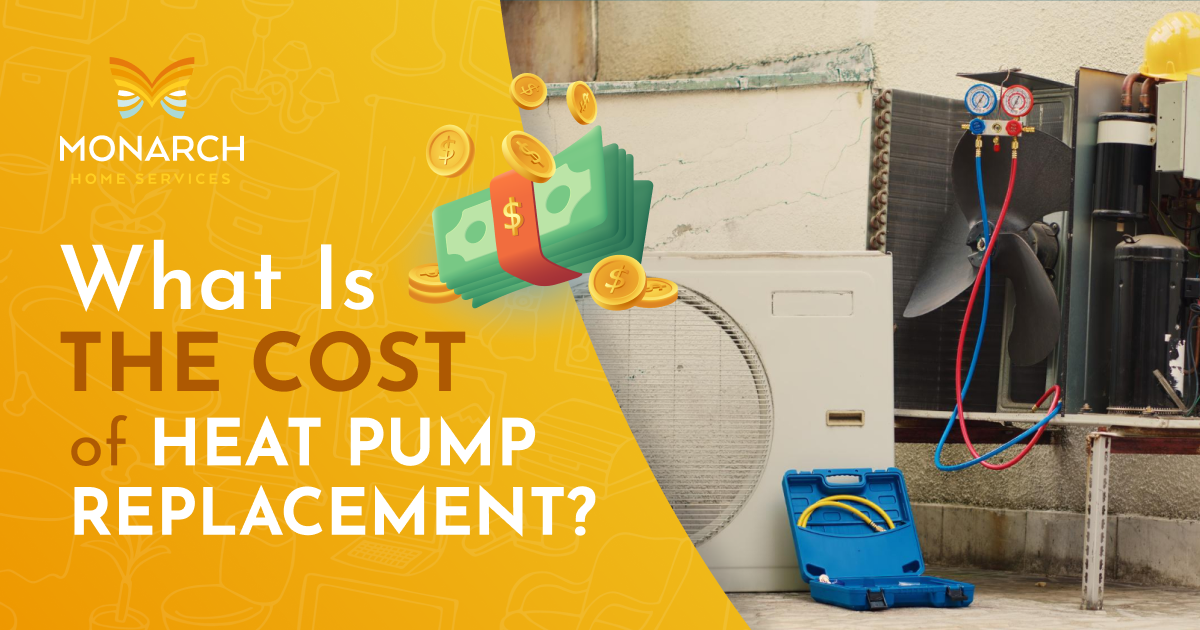 The cost of heat pump replacement ranges from $2,500 to $10,000, but the average homeowner spends $5,500, according to Forbes (as of 2023). If you're adding ductwork or a geothermal or solar-powered system, the cost can balloon to as much as $30,000!¹ Heat pump replacement costs vary so much for many reasons. We'll look at a few to help you budget and plan for the project.
Heat Pump Replacement Cost Factors
From the type of heat pump to its size, brand, and level of efficiency, numerous factors impact what you pay for a new system. These include:
Type of Heat Pump
There are several types of heat pumps available. The most common types (and their total costs of installation) are:
Air-Source (6,500 to $13,500)¹

: When considering just the price of equipment ($2,000 to $5,000), air-source heat pumps are among the most affordable; you'll save if you have existing ductwork. The system draws heat from outside, even if it's relatively cool, and transfers it to your home.

Geothermal ($9,000 to $26,000)¹

: A geothermal system draws heat from soil or a water source. Much of the high cost is due to the fact that part of the system is buried underground.

Solar ($17,000 to $30,000)¹

: A solar heat pump is highly efficient. However, you will incur the cost of installing solar panels on your property.

Hybrid ($3,000 to $16,000)¹

: A hybrid heat pump combines a heat pump with a furnace. The second heater kicks in when the temperature outside drops too low for the system to work effectively.

Ductless Mini-Split ($2,500 to $11,000)¹

: If you don't have ductwork, a ductless mini-split system allows for zoned heating and cooling in summer and winter.
Type of Installation 
An entry-level heat pump costs less to install than a mid-range or high-end system. The determining factor impacting the cost of each is whether the system is single-stage, two-stage, or variable-capacity. That's not counting labor or the cost of a replacement furnace. If you have a hybrid system, an HVAC technician will determine whether the equipment matches (if not, both will need to be replaced at the same time).
Size/Capacity
The size, or capacity, of a heat pump is measured in British Thermal Units (BTUs) or tons. A 24,000 BTU/2-ton heat pump is suited for a 1,000-square-foot home and can cost between $2,500 to $5,000. Meanwhile, a 60,000 BTU/5-ton heat pump ranges in cost from $6,000 to $10,000.¹
To determine the right sized unit for your home, a contractor will consider its square footage and layout, the ceiling height, and the number and location of windows. Other factors to consider include insulation quality, air filtration, location of heat-generating appliances, and the number of occupants in your home. These are input into a Manual J load calculation, which helps a contractor find the best-sized heat pump for your house and local climate.
Brand
The top brands of heat pumps include Amana, American Standard, Carrier, Goodman, Lennox, and Rheem/Ruud. Bosch heat pumps tend to be more on the expensive side. However, a Coleman heat pump is generally more affordable.
Efficiency Rating
When measuring heat pump efficiency, look at a unit's Heating Seasonal Performance Factor (HSPF) and Seasonal Energy Efficiency Ratio (SEER). High-efficiency systems rate at 10+ HSPF and 19+ SEER. While more costly to install upfront, these units can reduce energy costs over time. However, standard heat pumps are less efficient but can cut upfront costs by as much as half.
Location and Climate
The cost of heat pump replacement varies by city and region. It's generally more expensive to install one in a colder climate as you'll need a hybrid system or a larger, more efficient unit. For example, installing a heat pump in Denver costs more than installing one in Miami. 
Climate is a significant cost factor with heat pumps. You'll need a smaller, less powerful unit in the South and a more powerful one in a moderate climate. In colder climates, there are more efficient heating methods that can cost less to install or replace.
Labor and Permits
The labor for heat pump replacement varies significantly. A ductless mini-split may cost $1,500 to install, while a solar-powered system can cost up to $25,000 just for labor.¹ Your HVAC contractor will also have to pull a permit. Building and other permits come with different fees and requirements, depending on your state and city.
Home Modifications
Any necessary home modifications to accommodate a new heat pump will cost extra. A couple of examples include:
Electrical

: An HVAC system's electrical components, including the electrical conduit, outside electrical disconnect, breaker, and thermostat, cost extra. You may also need to have an electrician update your breaker panel and home wiring.

Ductwork

: Depending on the size of your home, duct installation can cost $1,000 to $5,000. Therefore, a ductless system can save you thousands of dollars.¹
Tips on Saving Money
Heat pump replacement is an investment that can benefit you over the long run. But you can save on heat pump installation by considering:
Federal, state, and local tax credits and potential utility rebates.

Alternate types of heat pumps, such as an air-source or ductless system.

Multiple quotes and a reputable contractor with the lowest bid.

Off-season installation; a company may charge less in the fall or spring.
Contact Monarch Home Services 
We install and replace heaters in the San Joaquin Valley, whether you prefer a furnace, heat pump, or ductless mini-split system. When it's time for heat pump replacement, we can evaluate your home, determine the best type and sized unit, and ensure a flawless installation by licensed and insured professionals. Our maintenance agreements have your system covered throughout its life. To schedule heat pump replacement in Bakersfield, Visalia, or Fresno or receive a free quote, call (661) 215-6573 today.
Source: