The central San Joaquin Valley is known for its bad air quality. In fact, Fresno, Bakersfield, and Visalia account for three of the four cities in the United States with the worst air pollution for year-round pollution and ozone.
Air quality isn't just bad for your lungs, though; it can wear down your home's HVAC system as well – even if you have an air scrubber or air purification system. Here are a few ways you can kick start spring cleaning this year with simple, DIY tips to keep your AC clean and functioning flawlessly:
Note: Always turn your thermostat to "off" before working on or near your AC unit. You will also need to find the electrical disconnect box (probably located near the outside unit itself) and disconnect the power.
Checklist: How to Clean Your Outside AC Unit
Turn your thermostat to "off"
Disconnect power at the electrical disconnect box (probably located near the unit on the side of the house)
Remove the outer covers of the air conditioning unit
Vacuum the outside fins using the brush attachment of a shop vacuum
Wash the fins (gently) using a garden hose with an attachment, spray the fins from the inside out to get rid of remaining dirt
Do not use a power washer, as this could damage the fins
Don't forget to clean around your AC unit, too!
Depending on where your air conditioning unit is located, you may need to clear away weeds, tall grass, and leaves from the area as well. Over time, debris will accumulate on, around, and underneath the unit. Make sure neighboring shrubs and plants are trimmed away too, so your local AC repair technician can easily access the unit if needed.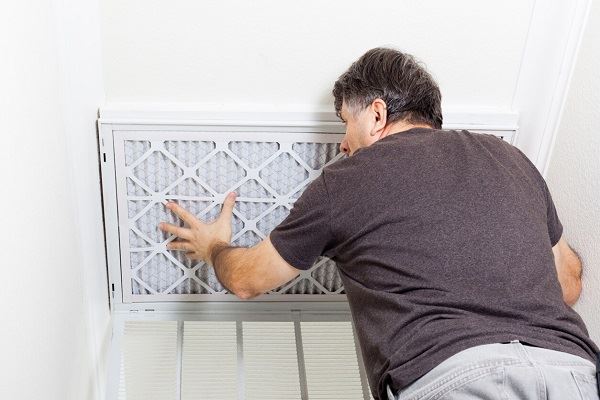 Change the air filter
Changing your air filter is easy to do! It's also something many homeowners forget about. Over time, your air filter will accumulate dust and allergens. If you don't change it regularly, the HVAC unit will become less efficient because it needs to use more energy to pull air into your home.
How often should you change your air filter?
For most people, the answer to this question is "it depends." Factors such as the season and/or the number of pets in your home can influence how often you need to change the filter. The San Joaquin Valley is different because there is almost always dust in the air. Generally speaking, you should change your AC filter once every 20 – 30 days if you live in the San Joaquin Valley.
Need a professional AC tune-up? We can help!
At Monarch Home Services, we offer HVAC and indoor air quality services across the San Joaquin Valley. From AC repairs in Bakersfield to tune-ups in Fresno, we can help you make sure your unit is ready for the summer. Call (661) 452-8707 today to schedule your next service, or check out our latest coupons and special offers!