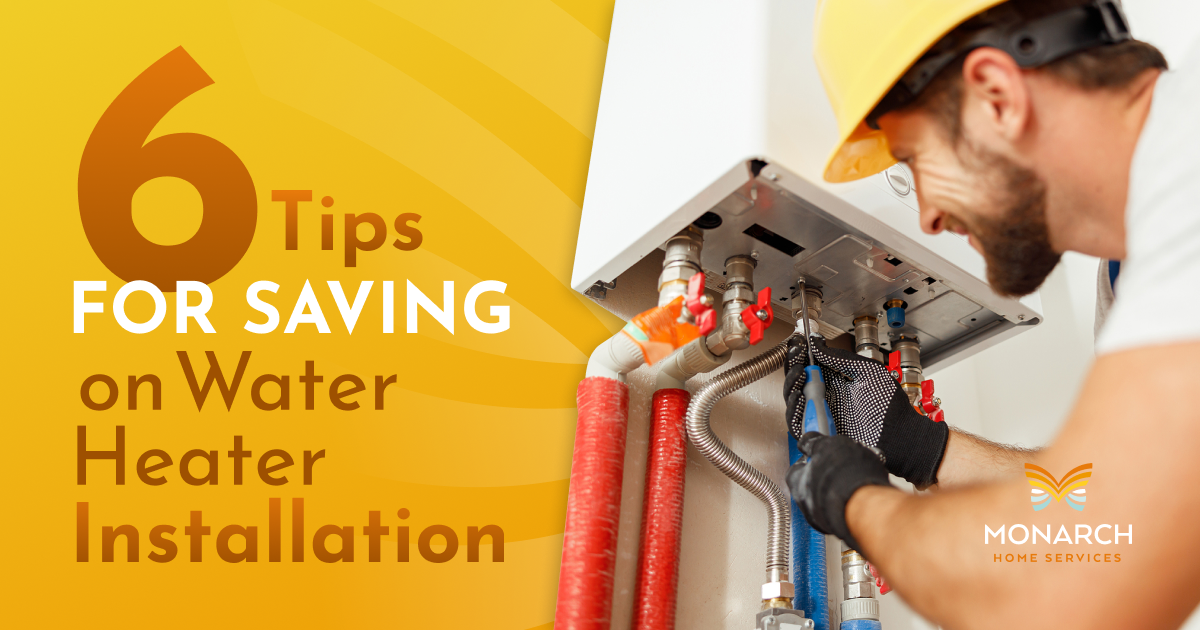 The average cost to replace a water heater (in 2023) is $1,284, according to Angi.¹ However, you could spend thousands of dollars more depending on the type, size, and brand. But if you're on a budget, here are tips to save on water heater installation in your San Joaquin Valley home:
1. Purchase the Same Type of Water Heater
If your last system met your hot water needs before it started failing, the same type should as well. Installing a similar model avoids switching fuel sources. You won't need new electrical wiring unless your existing wiring is old or outdated. Nor will you need a gas or water line installed if your current plumbing connection is in good shape. 
However, if you decide on a high-efficiency, indirect, solar, tankless, or hybrid heat pump water heater, long-term savings may make up the difference in the installation cost.
2. Repair Your Water Heater If Possible
Fixing your water heater makes sense if the repair isn't that expensive. A gas valve may cost you under $200, which is far less than a new water heater. But if a major repair will cost $1,000 or more, purchasing a new unit can save you money in the long run. Consider the age of your water heater when weighing the decision to repair or replace it; gas units last up to 12 years, an electric water heater can last up to 15 years, and some tankless models can last 20 years.
3. Buy the Water Heater Yourself
This won't always save you money. But do your research anyway. A plumbing company often adds to the cost of equipment. When you receive your quote, compare the cost of the appliance to prices at a home improvement or plumbing supply store. 
An in-store purchase may not cover the full cost. For example, municipal codes may require the water heater to be inspected and upgraded, which will involve fees and other expenses. Also, determine if you have a large enough car to transport the unit. If not, buying it from a plumbing contractor will save you stress (and the cost of shipping).
4. Hire a Professional Installer
Water heater installation requires knowledge and tools you don't have. We always recommend letting your local plumber handle the dirty work. They have the right licensing, training, and experience. Hiring a contractor will avoid costly repairs should a DIY project go awry and may give you access to coupons and discounts (check for these on their website and in local print ads).
5. Ask Your Plumber What Types of Fittings They Use
Asking such a question shows a contractor you have some knowledge of the water heater installation process. And this makes sense from a cost perspective. Regular copper fittings are less expensive than pressed copper fittings (these require a specialized tool to install). Some plumbers overcharge by using this advanced method, so check the bid to see what materials they use. Check the pipe material, too. For example, PEX pipe can expand and change shape if it freezes, so it won't burst like rigid copper can.
6. Don't Wait Until Your Water Heater Fails
Once your water heater quits, there's no time to plan for water heater installation. You'll be stuck with whatever price the installer charges, which may include emergency and off-hours fees. By scheduling a replacement, you can set an appointment for a weekday during regular work hours. Or, you can have a new water heater installed during the off-season when prices are lower. Plus, you avoid the cost of cleaning and fixing up a flooded basement.
Schedule Water Heater Installation Today
At Monarch Home Services, we have all your water heater installation and repair needs covered. Our licensed San Joaquin Valley plumbers will help select the best type and size of unit for your household. They'll provide an honest quote, help explore different options, and weigh the benefits of up-front costs and long-term savings. To get started, call (661) 215-6745.
Source: